From the Bishop
Bishop's Message and Diocesan Updates
Synod of Bishops
You are being called to participate
Pastoral Plan
View our goals for the Catholic Diocese of Salt Lake City.
Support My Parish
Give an Offertory gift to your parish.
Find a Parish
Explore Utah's places of worship
Diocese Updates on Covid-19 Guidelines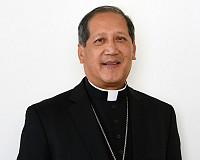 "We need to exercise extreme caution and take our sacred responsibility of protecting the health and lives of others by observing CDC and state health directives and diocesan guidelines responsibly."
"The following guidelines and procedures were put in place in the diocese on Jan. 10 and are effective through Feb. 1 or until further notice."
-The Most Reverend Oscar A. Solis, Jan 11, 2022, Bishop's Memo, Updates on Covid guidelines
Around the Diocese
The latest information and happenings from around the diocese.