2021-2023 Synod
English | Español Diocese of Salt Lake City Synthesis
English | Español U.S. National Synthesis
English | Español Continental Synthesis (pending)
It is with sincere appreciation for all those who submitted their local parish reports by the deadline and were able to provide valuable feedback to the bishops and pope. We submitted our report to the United States Catholic Conference of Bishops in Washington, D.C., and we now post it above in both English and Spanish.
There are numerous quotes throughout the document from the people of God from all over Utah. There were so many thoughtful comments worthy of deeper reflection and consideration in our local parishes, schools, and other institutions. We did our best to capture the sentiments, but it was impossible to include every good comment.
What is important is that we "journey together toward God faithfully." How we prayerfully take to heart the sentiments, and wider implications of this report, will help us spiritually grow, and be kinder and more welcoming. Not everything in the report is being endorsed as a direction we should go. Rather, it is the result of us listening to each other. Some of what you read will become an encouragement, a call to holiness, but not all. We must first know the feelings, thoughts, and faith of others beyond ourselves if we are to evangelize and work to journey together.
The synodal journey is only beginning, and it starts with listening. You will discover that the results of his report will be utilized throughout the diocese on the local level, but also on a diocesan level. In August 2022, Church leaders, both laity and clergy, reflected and discussed the Diocesan Pastoral Plan and how our report will inform this process going forward. When the final report of the Synod is presented in October of 2023 in Rome, we will once again have the opportunity to reflect and incorporate the world-wide findings.
Thank you again to everyone who participated and shared your heart, your faith, your time, and your energy. This endevour will continue to bear fruit in the coming years due to your generosity in sharing your experiences, thoughts, challenges, dreams and aspirations. May God bless us in our synodal journey and building up the Body of Christ.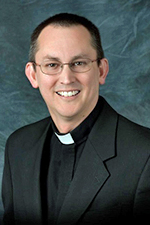 Rev. John Evans
Supporting Documents & Resources