Diocesan Development Drive
Give thanks to the Lord, His love is everlasting.
Lenten Retreat
Synodality: Walking Together With Christ and Each Other
Saturday, April 2, 2022
From the Bishop
Bishop's Message and Diocesan Updates
World Meeting of Families
Parish Resources to Celebrate the 10th World Meeting of Families
Synod of Bishops
You are being called to participate
Support Ukraine
Join Pope Francis and the Diocese of Salt Lake City in prayer for peace and Lenten almsgiving for the people of Ukraine.
Donate at crs.org. Catholic Relief Services and Caritas partners are on the ground across Ukraine and in bordering countries, ready to provide safe shelter, hot meals, hygiene supplies, transport to safe areas, counseling support and more.
Diocese Updates on Covid-19 Guidelines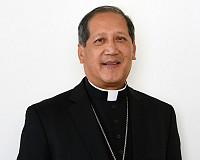 "We need to exercise extreme caution and take our sacred responsibility of protecting the health and lives of others by observing CDC and state health directives and diocesan guidelines responsibly."
"The following guidelines and procedures were put in place in the diocese on Jan. 10 and are effective through Feb. 1 or until further notice."
-The Most Reverend Oscar A. Solis, Jan 11, 2022, Bishop's Memo, Updates on Covid guidelines
Around the Diocese
The latest information and happenings from around the diocese.