Pastoral Congress 2022
Eucharist: Life, Joy and Thanksgiving
Saturday, September 17, 2022
National Eucharistic Revival
My Flesh for the Life of the World
Diocesan Development Drive
Give thanks to the Lord, His love is everlasting.
Synod of Bishops
You are being called to participate
From the Bishop
Bishop's Message and Diocesan Updates
Bishop's Statement on Colorado Springs Tragedy
On behalf of the people of God in the Diocese of Salt Lake City, I want to extend sincerest condolences and prayers for the victims of the tragic and senseless loss of lives in Colorado Springs.
The Catholic Church opposes violence in any form. We respect life and support the God given human dignity of each person.
I share with you the statement from The Bishop of Colorado Springs, The Most Reverend James R Golka.
May God bless us all, especially these victims, their families and the community so impacted by this tragedy.
The Most Reverend Oscar A. Solis, D.D.
Bishop James Golka's statement on Colorado Springs nightclub shooting
Diocesan Statement on U.S. Supreme Court Decision
The Catholic Diocese of Salt Lake City welcomes efforts to protect the dignity and sanctity of every life from conception to natural death. We are grateful that the U.S. Supreme Court recognizes the human within in the womb, but we also recognize it is the responses of communities to women in need before, during and after pregnancy and the birth of a child that are the most important to building a culture of life.
Courts cannot ensure that women have the support and resources needed to raise healthy children. We encourage all communities of faith, neighbors, friends, and family to be ready and willing to walk with moms as they seek to provide lives of dignity for their children.
Catholics can help through our diocesan Walking with Moms in Need program and Project Rachel. The Diocese will also continue to advocate for private and public supports, such as the Child tax Credit, health coverage for all children and extended coverage for new moms, and deeply affordable housing to support the development of strong families.
rttteDiocp&jDiocp&jDiocp&j
Support Ukraine
Join Pope Francis and the Diocese of Salt Lake City in prayer for peace for the people of Ukraine.
Donate at crs.org. Catholic Relief Services and Caritas partners are on the ground across Ukraine and in bordering countries, ready to provide safe shelter, hot meals, hygiene supplies, transport to safe areas, counseling support and more.
Diocese Updates on Covid-19 Guidelines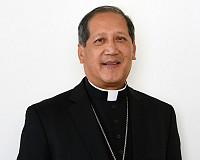 "We need to exercise extreme caution and take our sacred responsibility of protecting the health and lives of others by observing CDC and state health directives and diocesan guidelines responsibly."
"The following guidelines and procedures were put in place in the diocese on Jan. 10 and are effective through Feb. 1 or until further notice."
-The Most Reverend Oscar A. Solis, Jan 11, 2022, Bishop's Memo, Updates on Covid guidelines
Around the Diocese
The latest information and happenings from around the diocese.