Diocesan Development Drive
Forward Together in Faith and Love
Synod of Bishops
You are being called to participate
Pastoral Plan
View our goals for the Catholic Diocese of Salt Lake City.
From the Bishop
Bishop's Message and Diocesan Updates August 20, 2021.
Find a Parish
Explore Utah's places of worship
Statement from Bishop Oscar A. Solis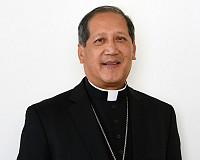 "We must learn to listen to the voices of our discriminated brothers and sisters and raise the voices God has given each of us to challenge the culture of death evidenced in violence, inequality, and injustice not only against innocent lives of the unborn, the sick and the elderly, but also of our Black brothers and sisters and other people of race, faith affiliation, sexual orientation and economic status."
-The Most Reverend Oscar A. Solis, May 30, 2020, Bishop's Memo, Bishop Calls for Prayers During Unrest
Around the Diocese
The latest information and happenings from around the diocese.