Office of Life, Justice and Peace
The Office of Life, Justice and Peace seeks to educate, inspire and activate all people to protect the dignity and sanctity of every life, from conception to natural death and all of the years in between. The office represents a Catholic viewpoint at local, state and national levels of government as we strive to protect people in poverty, preserve all of God's creation, promote global solidarity, and ensure a life of dignity for every person.
Catholic Social Teaching:
Catholic social teaching stems from Sacred Scripture, papal encyclicals, Vatican II, and documents from the U.S. Conference of Catholic Bishops (USCCB). It is an extension of the Eucharistic liturgy; "The Eucharist, celebrated as a community, teaches us about human dignity, calls us to right relationship with God, ourselves and others, invites us to community and solidarity, and sends us on mission to help transform our communities, neighborhoods and world." Catholic social teaching guides us in our attempt to share the Eucharistic celebration in a transformative manner. It is typically divided into seven major intertwining themes. For more information about the themes, click on the Catholic Social Teaching menu item on the left.
Don't Miss your opportunity to learn more about Catholic Social Teaching and putting your faith into practice! The Roundtable Association of Catholic DIocese Social Action Directors is hosting the 2019 Social Action Summer Institute in Salt Lake City. SASI 2019's theme reflects this year's emphasis on giving voice and fostering systemic change for people experiencing homelessness or statelessness. Social justice ministry is dedicated to serving individuals on the margins of society. Housing affordability, health care access, racial injustice serve as some of the many barriers to resolving homelessness. For immigrants and refugees, increasingly unwelcoming policies and attitudes are leaving many with no place to call home. SASI 2019 will look at these critical issues as we each seek to live our faith and shelter the homeless. Registration is open HERE.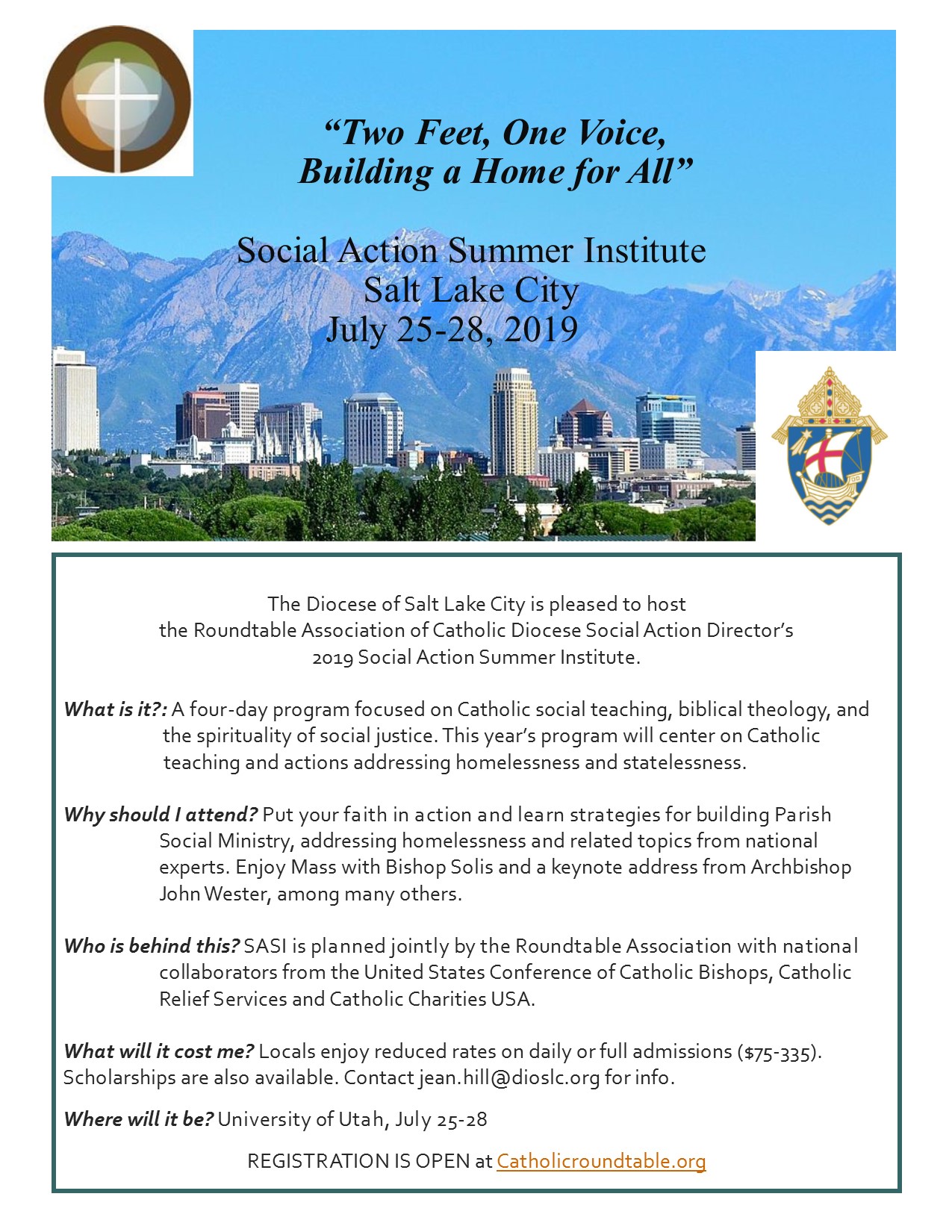 Catholic Advocacy
Catholics may join the diocesan advocacy efforts on issues related to Catholic social teaching. The links below provide information on forming the individual Catholic conscience regarding policital issues, a list of current legislative efforts, and tips for engaging in advocacy. Weekly advocacy opportunties may also be found by joining the Prayer and Action Network.
2019 Legislative Priorities (Last updated March 5, 2019 12:46 p.m.)