Diocesan Calendar
Saint Alophonsus Liguori
Saint of the Day- Alphonsus Liguori, bishop, doctor of the Church
Saint Eusebius of Vercelli
Saint of the Day- Saint Eusebius of Vercelli, Bishop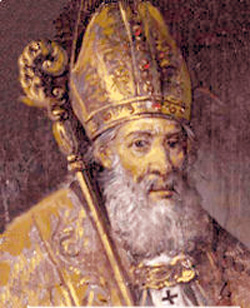 St. Eusebius was born in the 4th century in Sardinia, Italy. Eusebius became the fisrt bishop of Vercelli in 345, he was also the first Western bishop to unite monastic life with the ministry. He was a noted supporter of St. Athanasius of Alexandria and is known as the restorer of the Nicene Creed. He died on August 1, 370/371 and he is the patron saint of Vercelli.
Saint Peter Eymard
Saint of the Day- Saint Peter Eymard, priest
Saint Peter Eymard was a Catholit priest, born on Febuary 4, 1811 in La Mure, d'Isère in Southeastern France. He was the founder of the Congregation of the Blessed Sacrament for men and the Servants of the Blessed Sacrament for women. He died on August 1, 1868 in the same place he was born.
Saint John Mary Vianney
Saint of the Day- Saint John Mary Vianney, priest
Saint John Vianney was born on May 8, 1786 in Dardilly, France. He was born into a catholic family, but when the French Revolution began many preist had to hide to keep preaching their ministry. The Vianney family had to travel to distant farms to attend masses. In 1802 the catholic Church in France was re-established by Napolean Bonaparte. When Vianney was 20 he went to study at a "Presberty Church" in Ecully but his studies were intruppted in 1809 to be drafted into Naploean's armies. After many obstacles, he could resume studying. In 1812 he went to the minor seminary in Verrieres-en-Forez. He was ordained a deacon in the June of 1815 and he was ordained a priest on August 12, 1815. St. John Vianney died on August 4, 1859 and is the patron saint of parish priests. .
The Transfiguration of the Lord
THE TRANSFIGURATION OF THE LORD
Saint Dominic
Saint of the Day- Saint Dominic, priest
Saint Dominic was born on August 7, 1170 in Caleruega, Spain. At the age of 14, Dominic was sent to the Premonstratensian monastry of Santa Maria de la Vid. Then was transferred for further studies in Palencia. In 1191 a horrible famine hit Spain, Dominic decided to sell all his clothes and furniture and give away his money to those people who were starving. At the age of 24 he was ordained a priest and joined the canonry of the Cathedral of Osma. He was the founder of the Order of Friars Preachers, a mendicant religous order with a mission of preaching a centralized organization and government, and emphasis on scholarship. St. Dominic is also well known for inventing the rosary. Dominic died on August 6, 1221 and he is the patron saint of astronomers.
Saint Teresa Benedicta of the Cross
Saint of the Day- Saint Teresa Benedicta of the Cross ( Edith Stein), virgin, martyr
Saint Tersa Benedicta of the cross also known as Edith Stein was born in 1891 to devoted Jewish parents in Breslau, Germany. At age 14 she stoped praying and rejected Jewish beleifs and became an athiest. She was a brilliant student, she recieved her doctrate in philoshophy in 1916. Though society wouldn't allow her to follow her dream in being a professor because of her gender. One day Stein read the autobiography of Saint Teresa of Avila and she said "This is the truth." She was baptized and confirmed into the Catholic faith in 1922 and she immediatly wanted to enter St. Teresa's order, the Discalced Carmelites, but her spiritual advisor would not let her. Instead she taught at a Dominican school for girls. In 1833 the Nazi Aryan Law forbade Jews from teaching in Germany. After 10 years of teaching in the school she resigned. Finally, her spiritual adivor let her enter the convent. On April 21, 1834 she took her final vows at the Carmelite Convent of Cologne becoming Sister Teresa Benedicta of the cross. Over the past months the Nazi's had started burning synagogues and villages. The Carmelite sister smuggled Teresa to the Netherlands but soon the Nazi's started imprisoning the Jews in the Netherland as well. The Carmelites tried to come up with a plan to try to save but Teresa refused. Teresa was arrested by the Gestapo on August 2, 1998 along with another sister. Several days later they were taken to the Auschwitz and killed ina gas chamber. She is the patron saint of of Europe.
Saint Lawrence
Saint of the Day- Saint Lawrence, deacon, martyr
St. Lawerence is one of the most venerated Roman martyrs, for his christain valor. Lawrence was one of the 7 deacons who were serving Pope Sixtus II. Saint Lawrence stole all the churchs's treasure to give the poor. He was executed during the persecution under the Roman Emperor Valerain and so were the other 6 deacons. He died in Rome in the year 258 and he is the patron saint of the poor and of cooks.
Saint Clare
Saint of the Day- Saint Clare, virgin
Saint Clare was born on July 16, 1194 into a wealthy and noble family . At a young age, she dedicated her time for prayer and at 18 she heard St Francis of Assisi preaching during a lenten service and she asked him to teach her how to live accordingly to the Gospel. On the Palm Sunday of 1212 she left her father's home and went to the chapel of the Porziuncula to meet with Saint Francis. She joined into the convent of the Benedictrine under Francis' orders. Then Francis sent her to Sant' Angelo in Panzo. A dwelling was built for Clare and her sister next to the San Damiano Church. Overtime more women started to join them, they became known as the "Poor Ladies of San Damiano. San Daminano becaem her new order, in 1216, Clare became the abbess to San Damiano. Clare became very sick and suffered geart pain for years , on August 11, 1253 she died. St. Clare is the patron saint of eye disease, goldsmiths, laundry, television.
Saint Jane Frances de Chantel
Saint of the Day- Saint Frances de Chantel, religous
Saint Jane France de Chantel was born on January 28, 1517 in Dijon, France. She married a man by the name of Baron de Chantel, they adopted 3 kids and had one son. Sadly, her husband died in a hunting accident, heartbroken she sold the beautiful house they had and she and her children went to live with her father. One day, in the year 1609, her father invited her to hear Bishop Francis de Sales preach a Lenten sermon, soon they became very close friends and Francis de Sales turned into her spiritual advisor. Chantel wanted to be a nun. Bishop de Sales purchased a small house on Lake Annecy and it was Chantel's order. The order accepted women who were rejected by other orders becuse of poor health or age. Her reputation of sanctity and great managment resulted in many visits by aristocratic women. She founded the religious Order of the Visitation of Holy Mary. She died on December 13, 1641 and she is the patron saint of widows.
Saint Pontian
Saint of the Day- Saint Pontian, pope, martyr
Saint Pontian was the Pope of Rome from 230 to 235. During the persecution of Christians under the reign of the Emperor Maximus Thrax, Pontian was arrested and exiled to Sardinia, with Hippolytus, the antipope. Both were reconciled in the mines in 235. Thtat same year Pontian died, he is the patron saint of prison gaurds and Montaldo Scarampi, Italy.
Saint Hippolytus
Saint of the Day- Saint Hippolytus, priest, martyr
Saint Hippolytus was electeed the antipope. But during the reign of the roman Emperor Maximus Thrax he was exiled for being Christian to Sardinia and was killed there.
Saint Maximillian Mary Kolbe
Saint of the Day- Saint Maximillian Mary Kolbe, priest, martyr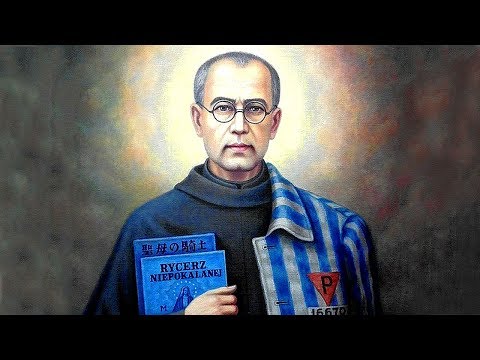 Saint Maximillian Kolbe was born on January 8, 1884, in the kingdom of Poland. He was a Polish conventaul Franciscan friar. He was very active in prommoting the Immaculate Virgin Mary. At the age of 21, he earned a doctrate in Philosophy from the Pontifical Gregorian University and a doctrate in theology at the age of 28. In 1918 he was ordained a priest and continued his work in prommoting Mary all over Poland. In 1936 Kolbe had to return to his home due to poor health. Once the World War II invasion started, he was the only brother in the monastery. When his town was caputered he got arrested but released three months later. He continued to work at the monastery and provideing shelter for others-including 2,000 Jews. After he recieved permission to start publishing, Kolbe published many anti-Nazi books. On Febuary 17, 1941, the monastry closed and he was arrsted by the German Gestapo and taken to teh Pawaik prison, then was transferred to the Aushwitz after 3 months. One day a man escaped and as punishment some men would have to die of starvation. Kolbe volunteer for a man who had a family. He was the last of the group who still remained alive after 2 weeks. The guards gave him a lethal injection of carboic acid and he died. He is the patron saint of drug addicts, prisoners and families.
The Solemnity of the Assumption of Mary
The Soleminty of the Assumption of Mary
Saint Stephen of Hungary
Saint of the Day- Saint Stephen of Hungary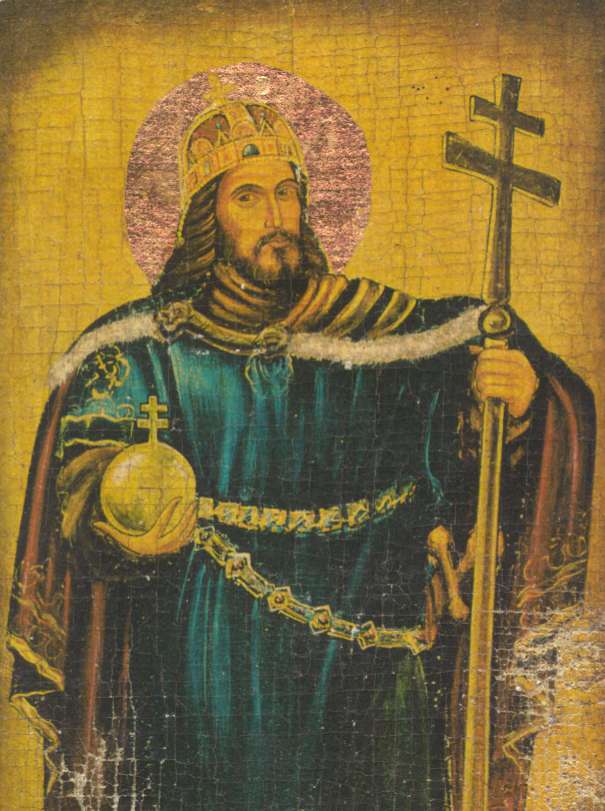 Saint Stephen of Hungary was the son of the Magyar chieftain, he was succeeded himself as a leader. He was raised into Christianity. In 996 he married the daughter of Duke Henry II Bavaria and devoted much of his reign to promote Christianity. He helped build churches and was a supporter of the rights of the Holy See. In recognition of his great actions, he was crowned the king of Hungary in the year 1000. He was canonized by Pope St. Gregory VII and became the patron saint of Hungary.
Saint John Eudes
Saint of the Day- Saint John Eudes, priest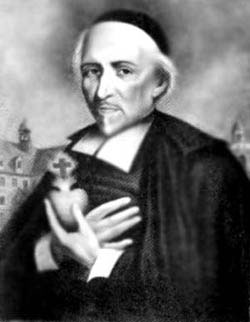 Saint John Eudes was born in Ri, France on November 14, 1601. He went to the Jesuit College at the age of 14 in Caen and even though he's parents wanted him to marry he joined the Congregation of the Oratory of France. He studied in Paris and in Aubersville and was ordained in 1625. He volunteered to take care for the victims that were struck by the famine in 1625 and 1631 and spent his next 10 years giving missions. He became very intrested in helping fallen women and 1641 he founed a refuge for thoses women in Caen. He resigned the Oratorians in 1643 and founed the Congreagation of Jesus and Mary in Caen. He also founded seminaries at Lisieux in 1653 and Rouen in 1659. John continued giving missions and started new seminaries in Evreux in 1666 and Rennes in 1670. He died on August 19, 1680 an he is the patron saint of Eudists, Order of Our Lady of Charity, Diocese of Baie-Comeau, and missionaries.
Saint Bernard
Saint of the Day- Saint Bernard, abbot and doctor of the Church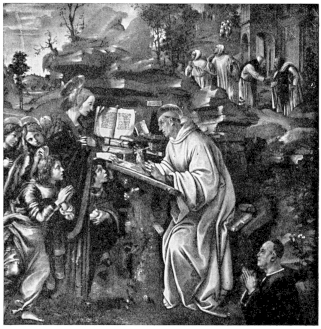 Saint Bernard was born into a noble family in Burgundy, France in the castle of Fontaines. At an early age he was sent to college. He entered in the studies of theology and scriptures. After his mother died he established the Cistercian Order. He persudaded many of his brothers and friends to follow his example. Saint Bernard was appointed a abbot becasue of his great progress. He founded numerous monasteries and took many journeys for the honor of the Lord. He was offered many Bishoprics but he turned the down. Saint Bernard died on August 20, 1153.
Saint Pius X
Saint of the Day- Saint Pius X, pope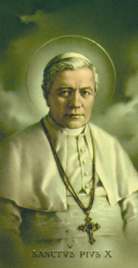 Pius was born on June 2, 1835. He was the head of the Catholic Church from August 4, 1903 to the year of his death in 1914. He is known for for his opposition towards modernist interpretations of the Catholic Church and he also started the preparation of the 1917 Code Canon Law. He is the patron saint of first Communicants and pioneers.
The Queenship of the Blessed Virgin Mary
The Queenship of the Blessed Virgin Mary
Saint Rose of Lima
Saint of the Day- Saint Rosa of Lime, virgin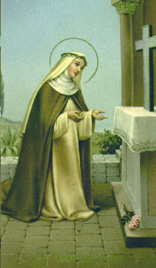 Saint Rose of Lima was born in in Lima in the year 1586. She was nicknamed Rose because of he incredible beauty and at her confermation she took the name Rose. At a young age, Rose wanted to become a nun, she often prayed and fasted in secret and she preformed daily adoration and took daily communion. As she kept growing he beauty kept growing too, to make the suitors go away she would put peppers on her face so it would cause blisters on her face she also cut her hair very short. He parents didn't approve her thoughts in being a nun but eventually her father gave her he own room so she could pray. Sometimes she would only sleep for 2 hours because of how much she prayed and she stopped eating meat. When she turned 20 she was able to enter the Third Order of St. Dominic. She continued he life of extreme fast and prayer. She wore a heavy silver crown, with spikes that pierced her head, the crown reminded her of the Crown of Throns. At one point a spike was really lodged into her skull that it took at long time to take it out. On August 25, 1617 she died at the age of 31, she is the patron saint of Latin America and the Philippines.
Saint Bartholomew
Saint of the Day- Saint Bartholomew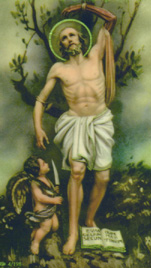 Saint Bartholomew was born in the 1st centeury and was one of the twelve diciples of christ. He preached in India and Greater Armenia but becasue of trying to convert the king to Christianity he was flayed and beheaded. He is the patron saint of butchers.
Saint Louis of France
Saint of the Day- Saint Louis of France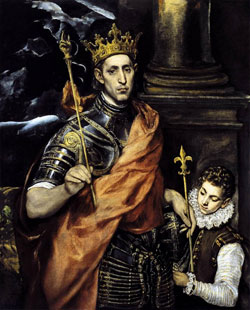 Saint Louis was born in Poissy, France, in 1214, his father was Louis VIII. At the age of 12 his father died and left his mother the kingdom. His mother inspired him at a young age the love of holy things. In 1234 he married Margaret, the daughter of Raymond Berenger. Two years later he took the reign of government, 238, he led a crusade, in which he was arreseted a prisoner among the Mohammedans, but a truce was set and he was set free and he returned to France. In 1267, he again set out for the East to lead a crusade but he never again beheld his native land. In 1270 he died and he is the patron saint of Tertiaries.
Saint Joseph Calasanz
Saint of the Day- Saint Joseph Calasanz, priest
Saint Joseph Calasanz was a spaniard who studied law and was ordained a priest, even though his father wanted him to become a solider he became the vicar general of the Spanish Diocese. In in 1592 left for Rome, where he joined the Confraternity of Christian Doctrine and he aslo worked to take care of neclegeted children. He established the first free school in Rome and he founded Clerks Regular of the Religious schools. He died on August 15, 1648 and he is the patron saint of students.
Saint Monica
Saint of the Day- Saint Monica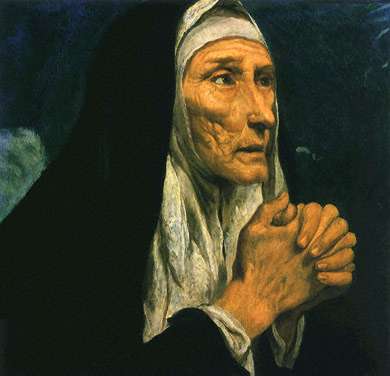 Saint Monica was born in 331 in in Tagaste, which is now present-day Algeria and was the mother of Saint Augustine. At a very young age, she married the Roman pagan Patricius, who shared his mother violent temper which was a great challenge for Monica. Even though it bothered Patricius that Monica prayed and kept doing her christian needs he respected her beliefs. Monica and Patricius had 3 children, Augustine, Navigius, and Perpetua. Monica wasn't able to baptize them, but when Augustine fell ill she pleaded her husband to let her baptize them and her allowed it but when Agustine was healthy again he withdrew from his decision. Monica kept praying for her husband and her mother in-law until one year before Patricius' died and she finally baptized her children. As the years went by, Perpetua and Navigius entered the religious life, but unfortunately Augustine became lazy and uncouth. When Patricius died she sent Augustine to Carthage for schooling. After 6 months Augustine was baptised in the church of St. John the Baptist at Milan. Monica died in the year 387 and she is the patron saint of wives and abuse victims.
Saint Augustine
Saint of the Day- Saint Augustine, bishop, doctor of the Church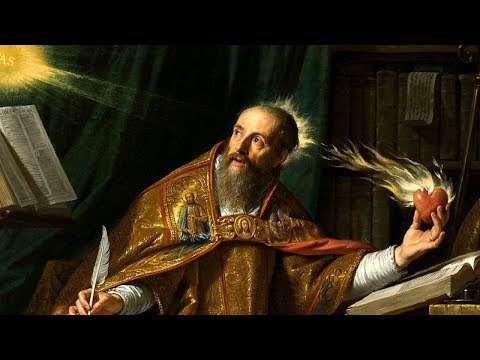 Saint Augustine was born in Africa. Augustine lived in a wicked life and false beleifs. Even though he was a very intelligent man his sins and impurities darkened his mind so much that he couldn't see the divine truth. Through the prayers of his mother and the preaching of Saint Ambrose, Augustine finally convived himself the Christianinty was the one true religion. He was baptized, became a priest, a bishop, a famous Catholic writer, Founder of religious priests, and one of the greatest saints. He died in the year 430 and is the patron saint of brewers.
The Martyrdom of John the Baptist
The Martyrdom of John the Baptist