Diocesan Calendar
Saint Therese of the Child Jesus
Saint Therese of the Child Jesus was born on January 2, 1873 in Alencon, France. After he mother died of breath cancer she moved with her family to Lisieux. She was religous at a very young age and at the age of 15 she joined the Carmelite convent at Lisieux. Although she suffered from depression, scruples and religous doubt she kept going. She died of tuberculosis on September 30, 1897 and is the patron saint of missions.
Saint Francis of Assisi
Saint Francis of Assisi was born around 1182 in Italy. Francis' dad was very wealthy cloth merchant because of this he grew up spoiled and rebellious. He would drink wine and partyed wildly. After fighting in a battle between Assisi and Perugia, Francis was captured and imprisoned for almost a year. Legends say that while he was imprison he recieved visions from God . After his father payed the ransom for his freedom, he heard God's voice saying to repair the the Christian Church and to live a life of poverty. In hearing this he abondoned his life of luxury and devoted his life to faith. Later in his life, Francis' recieved the stigmas of christ making him the fisrt person to recieve this holy wound. Francis died on October 3, 1226, and he is the patron saint of ecologists.
The Most Reverend George H. Niederauer, Ph.D.
Before being named eighth bishop of Salt Lake City on November 3, 1994, George H. Niederauer had spent virtually his entire life in Los Angeles, California, where he was born on June 14, 1936. Educated in Catholic schools and at St. John's Seminary in Camarillo, California, he was ordained to the priesthood for the Archdiocese of Los Angeles in 1962. A scholar of English literature, he earned a Master's degree in that field from Loyola University in Los Angeles in 1962 and a Ph.D. from the University of Southern California in 1966, specializing in Restoration drama. Most of his priestly ministry was as a seminary teacher back at St. John's until he was installed as Bishop of Salt Lake City on January 25, 1995. Salt Lake City achieved worldwide recognition in 2002 when it hosted the winter Olympics. Bishop Neiderauer and his staff were heavily occupied in making religious services and facilities available. Perhaps his most conspicuous achievement, though, was the opening in 1993 of the Skaggs Catholic Center in Draper, and immense and impressively equipped parochial school funded by Sam and Aline Skaggs. Bishop Niederauer was called to be Archbishop of San Francisco on February 15, 2006, from which he retired on October 4, 2012. He died on May 2, 2017.
Blessed Francis Xavier Seelos
Blessed Francis Xavier Seelos was born in Southern Bavaria. He studied philosophy and theology in Munich. He moved to the United States in 1843 and was ordained in 1844. He was assigned 6 years to St. Philomena's Parish in Pittsburgh. Several years in parish ministry, he took the reponsibility for training Redemptorist students. When the Civil War started Fr. Seelos went to President Lincoln to not draft the students for millitary service, although eventually some were drafted. He preached in English and in German throughout the Midwest and in the Mid-Atlantic states. In 1867, he died of yellow fever and he is the patron saint of immigrants to the United States.
Saint Faustina Kowalska
Saint Faustina Kowalska was born on August 25, 1905 in Głogowiec. she was a Polish nun. Throughout her years of life she said the see had visions of Jesus and had converstions with him which she wrote abour in her diary. At the age of 20, she joined convent in Warsaw and was later transferred to Plock and then to Vilnius where she met her confessor, Father Michael Sopocko. Faustina and Sopocko asked an artist to paint the first Divine Mercy image, based on Faustina's vision of Jesus.. Fraustina died on 5 October ,1938 and she is the patron saint of mercy.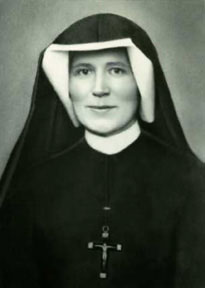 Saint Bruno
Saint Bruno was born in 1030 in Cologne, he was ordisaned in 1057, and he founded the Cathusian order. He died Oct. 6, 1101, and is the patron saint of Calabria, Italy, and of Germany.
Blessed Marie-Rose Durocher
Saint Marie-Rose Durocher was born on October 6, 1181 in Quebec, Canada. She was educated by the Sisteres of Notre Dame. After he studies she helped her brother, a parish priest, in establishing the first Canadian parish Sodality for young women. In 1843, she was invited by Bishop Bourget to found a new congregation of women dedicated to Christian education. She also founded the Sisters of the Holy Names of Jesus and Mary. She also had great concern for the poor. She died on October 6, 1849, she is the patron saint of Beloeil.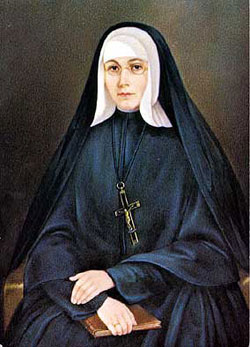 Canadian Thanksgiving Day
Saint Pope John XIII
Saint Pope John XIII was kidnapped by Roman nobles and prisoner in the Campania for a year. Fortunatley, Otto I rescued him. John crowned Otto's son, Otto II, as co-emperor. Pope John supported the Cluniac reform movement. He died in the year 972 and is the patron saint of Papal delegates.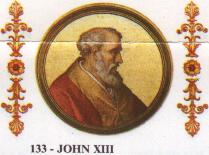 Saint Callistus I
Saint Callistus was born in 2nd century AD, the only story of his life is from someone who hate him, Saint Hippolytus. According to Hippolytus, Callistus was a slave and his owner Carporphorus made him the manager of a bank, unfortonatley the bank failed because Callistus would spend the money on unwisely investements. Afraid of punishment, he ran away but soon his owner caught up to him, before he could capture him he threw himself in to the sea but was soon rescued. He was taken back to Rome and put on trial and sentenced to a cruel punishment, he was forced labor on the treadmill. His owner took pity on him, Callistus won his release by convincing him he could get some of the money back from investors. But Callistus method of collecting money was shouting at people to give him money which leaded him to be sentenced again but this time to work at a mine. Other Christians who had been sentenced there because of their religon were released by negotiations between the emperor and the Pope. Callistus was on the list and was freed. Pope Callistus became pope in the year 219 and died in tghe year 222. He is the patron saint of cementary workers.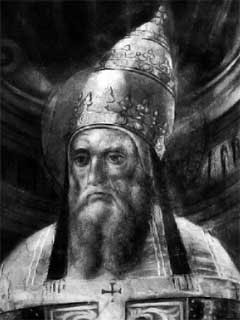 Saint Teresa of Jesus
Saint Teresa of Jesus was born on March 28, 1515. As a teenager she was very rebellious and out of control, her father decided to sent her to a convent. At first she hated it but soon she started to enjoy it. There came a time when she had to choose between marriage or religous life, she chose religous life. Once installed at the Carmelite convent permanently, she started to learn and practice mental prayer. Teresa fell ill with malaria, then she had a seizure. Afterwards she was paralyzed for three years and was never completely well. Yet instead of helping her spiritually, he illness kept her from praying completely. But one day a priest came up to her and told her to pray again. She started to pray again and God became first to her. At the age of 43 she was determined to create a carmelite order and she did. She died on October 4, 1582 and is the patron saint of headache sufferers, spanish catholic writers.