Taller Educativo de Prevención Suicida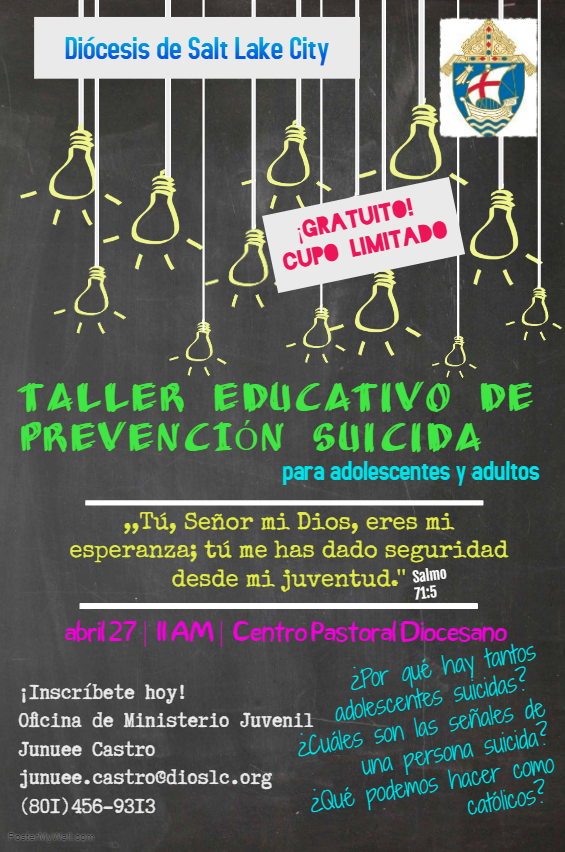 Taller Educativo de Prevención Suicida
Atención: Padres, catequistas, coordinadores juveniles, líderes de ministerio, acompáñanos a este taller de prevención y conocimiento del suicidio.
Eduquémonos en los factores de riesgo, señales de advertencia, estadísticas y, sobre todo, la importancia de la fe y la enseñanza católica acerca del tema.
Tendremos:
Sesión de adultos en español
Sesión de adolescentes en inglés (13-17 años)
Recursos, oración, reflexión y refrigerio
Por favor, ¡NO niños! CUPO LIMITADO.
Youth Suicide Awareness & Prevention Workshop
Calling All: Youth, parents, ministry leaders, and catechists!
Join us for a day of dialogue and reflection. The workshop will include information on statistics, warning signs and risk factors, and how you have a role in preventing suicide.
This includes:
Spanish session for adults
English session for teens (13-17 yrs.)
Prayer, resources, and refreshments
Space is limited. Register today!